2006-2009 Vortech Jeep SRT8 Supercharging Systems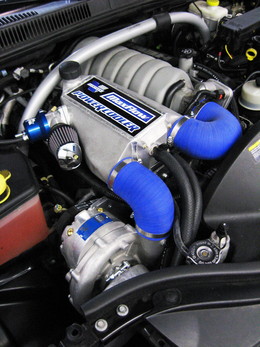 $ 0 USD
This product is not for sale at this time. We are in the process of contacting this vendor and this product should be available soon.
Power
Torque
Stock
420 HP
420 lb/ft
Vortech
560 HP*
510 lb/ft*
Included components
V-3 (self contained lubrication - no oil lines necessary) Si-Trim CCW rotation supercharger with an extended 6-rib belt and secondary cog drive.
Air/water charge air cooler (closed loop) increases performance and reliability of supercharger system and includes:

Welded charge air cooler core assembly with aluminum discharge tube, Bosch compressor bypass valve, silicone sleeves and stainless steel clamps.
Charge air cooler water storage tank with hoses, clamps and plumbing
Compact water circulation pump for closed loop cooling.
Large capacity, dual pass water cooler.

Supercharger drive system includes all necessary belts and pulleys.
Billet aluminum mounting plate assembly mounts the supercharger and power steering pump.
High flow inlet duct with re-useable high flow air cleaner.
Hand-held programmer controls ignition timing and fuel enrichment.
Fuel system upgrade includes larger fuel injectors and a 2 bar MAP sensor.
(6.1L system also includes a fuel pump voltage booster assembly)
These systems allow retention of all vehicle accessories. Installation time is 10-14 hours.
Smog Certification In Process
These systems have not yet been approved by the California Air Resources Board. 50-State emissions certification is planned. Currently these systems are legal in California only for racing vehicles which may never be used upon a highway (off-road use only).