There is two versions of AC MultiClient available, Both are listed below, Version 1 is a older simplifed version that does not store any passwords and Version 2 is a newer one that stores password on your computer system. I would recommend Version 1 but you choose. Here is a walk through video should you need it https://www.youtube.com/watch?v=WceWHLHSW70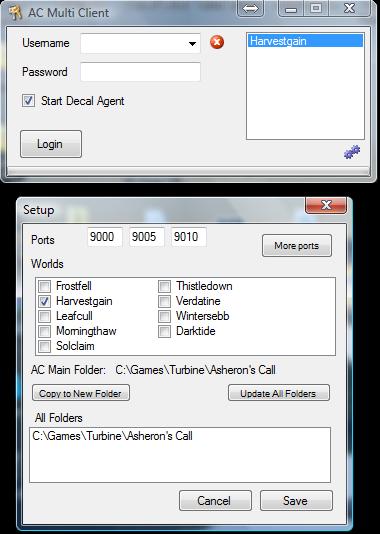 License: The MIT License (MIT)

Copyright (c) 2005-2010 Losado on Moringthaw

Permission is hereby granted, free of charge, to any person obtaining a copy of this software and associated documentation files (the "Software"), to deal in the Software without restriction, including without limitation the rights to use, copy, modify, merge, publish, distribute, sublicense, and/or sell copies of the Software, and to permit persons to whom the Software is furnished to do so, subject to the following conditions:

The above copyright notice and this permission notice shall be included in all copies or substantial portions of the Software.

THE SOFTWARE IS PROVIDED "AS IS", WITHOUT WARRANTY OF ANY KIND, EXPRESS OR IMPLIED, INCLUDING BUT NOT LIMITED TO THE WARRANTIES OF MERCHANTABILITY, FITNESS FOR A PARTICULAR PURPOSE AND NONINFRINGEMENT. IN NO EVENT SHALL THE AUTHORS OR COPYRIGHT HOLDERS BE LIABLE FOR ANY CLAIM, DAMAGES OR OTHER LIABILITY, WHETHER IN AN ACTION OF CONTRACT, TORT OR OTHERWISE, ARISING FROM, OUT OF OR IN CONNECTION WITH THE SOFTWARE OR THE USE OR OTHER DEALINGS IN THE SOFTWARE.

License History

Current (started 7/31/2009)
Release Notes:
Passwords are now symmetrically encrypted.


It is still possible for a skilled attacker to recover the passwords, but it is not so bad that the passwords are stored plaintext on your hard drive.
Unfortunately, do to the nature of the problem, the keys, the passwords, and the algorithms are all stored on your hard drive.
A future version will contain a master password to encrypt the whole settings file, which would place a new encryption key (the hash of your master password) off your hard drive (in your head).
I do not foresee this application's security exceeding that level.