Below is Examples of the Sellvage Tabs and Decal Icon.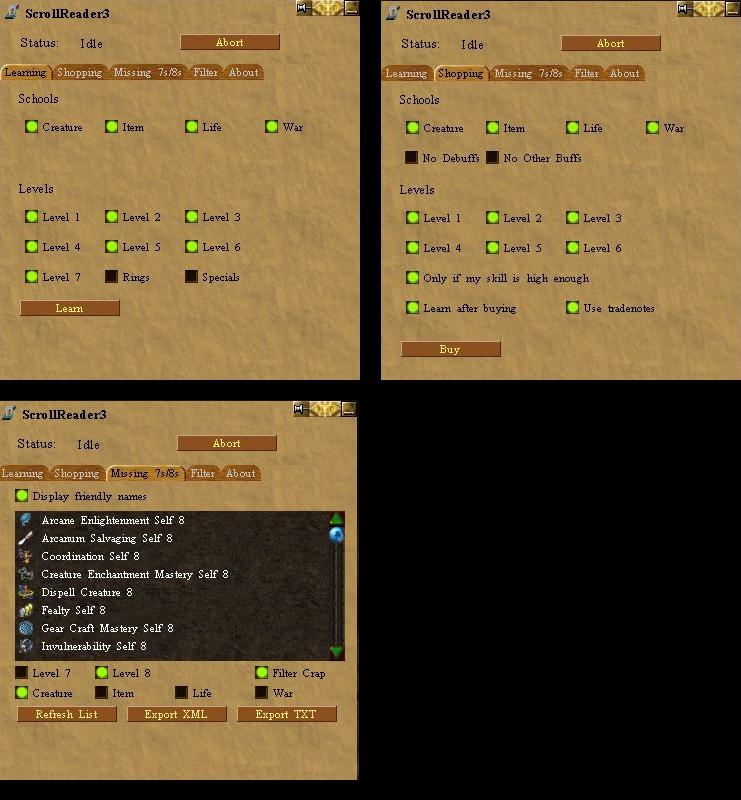 Attention: Screenshots are from one of the first versions and do not show all available GUI elements.

FAQ
What does the option "Filter on manual learning" do?
Usually ScrollReader3 will only filter when you press the "Learn" button. If this option is checked it will always filter according to your settings,
even when you manually use a scroll.
What are "Specials" and how is the spell level determined anyhow?
ScrollReader3 looks at the spells first and second component.
Level 1 to 7 are determined by the usual scarabs at first position (Lead, Iron, Copper, Silver, Gold, Pyreal, Platinum).
Spells with Diamond Scarab at first and second position are considered Rings, spells with Diamond Scarab at first position and something different on second are considered Specials.
Additionally a spell is considered special if the spell name contains one of the following strings:
Aerlinthe
Raven Fury
Ulgrim

Should a spell not start with one of the scarabs mentioned above it should be ignored completly.